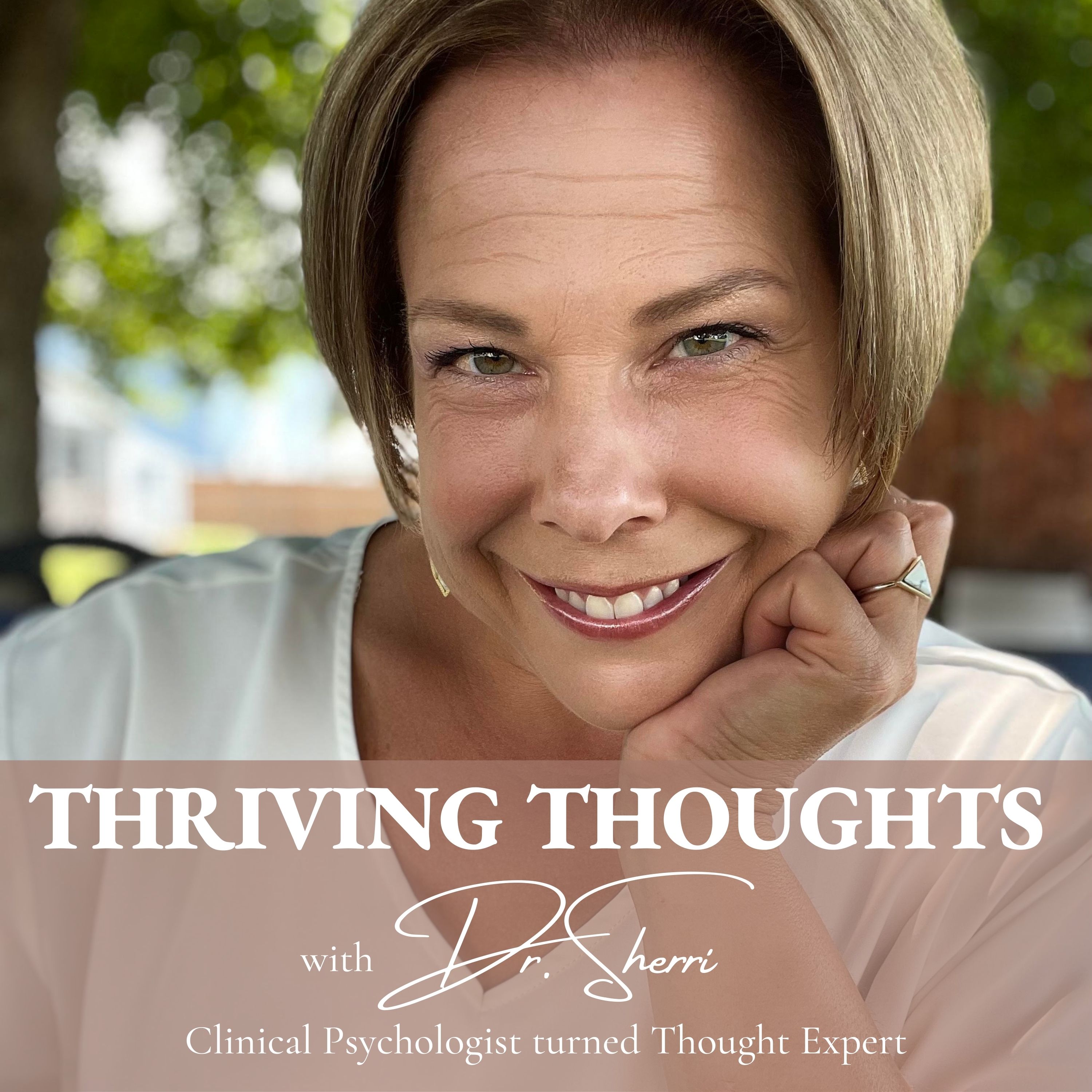 We have so much on our plates. We think we have to get so much done. And it makes us feel out of control. If you want more peace and less turmoil, more control and less chaos, this is the episode for you.
_____
DONATE to Thriving Thoughts Global today to support women's global access to practical and applicable life-changing thought tools! Your $45 donation will help us launch our first initiative, a webinar series called Words to Thrive By, that will be produced in the top five spoken languages across the world. 
As our thanks to you, you will receive a Thriving Thoughts 52-Card Deck, a full-color, laminated deck of shareable thriving thoughts with stunning nature photography.
Go to www.ThrivingThoughtsGlobal.com to DONATE now! Thank you for partnering with us to teach women how to thrive through the power of thought!
_____
Welcome to Season 6 of Thriving Thoughts with...ALL-NEW content!!
Dr. Sherri brings you ALL monologue episodes
2 episodes per week
5-minute episodes!!!
You asked, Dr. Sherri listened. You want to hear more expert advice on all the HOW-TOs to have a thriving thought world and turn your life from surviving to thriving. Dr. Sherri will equip you with one practical tool per episode in five minutes or less to honor your time and maximize your success in changing your thoughts and changing your life...in any and every circumstance.
_____
SHARE THE LOVE by sharing the show! Tell your friends about today's episode in your Instagram story. Be sure to TAG @dr.sherrispeaks and use #ThrivingThoughtswithDrSherri and you'll be entered into a drawing to win a personally autographed copy of Dr. Sherri's book, Breakup Breakthroughs!
 _____
Friends, there are so many ways to listen to the show. SHARE, SUBSCRIBE, and WRITE a 5-STAR REVIEW!
Apple Podcasts: https://podcasts.apple.com/us/podcast/thriving-thoughts-with-dr-sherri/id1474876807
Spotify: https://open.spotify.com/show/4p3dGacL22QYcKj0IPPtxi
Podbean: https://thrivingthoughts.podbean.com/
Google: https://podcasts.google.com/feed/aHR0cHM6Ly9mZWVkLnBvZGJlYW4uY29tL3Rocml2aW5ndGhvdWdodHMvZmVlZC54bWw?sa=X&ved=0CAMQ4aUDahcKEwjol6W2itrsAhUAAAAAHQAAAAAQAQ&hl=en
Dr. Sherri's YouTube Channel: https://www.youtube.com/channel/UCXu6Q74W79WAqSIkPSkkGc
_____
Get YOUR copy of my new book, Breakup Breakthroughs, right here on Amazon! It's for every woman (and many men who've had the courage to read the book and write a review!) who has EVER believed the lie that she's not worth fighting for! Get the paperback version, the Kindle version, AND the "It'll Take Work" Book with BONUS mini-book at the end, When People Say Things That Hurt! 
_____
If you've been encouraged by today's episode, will you please share this episode with someone you know who would love some additional thriving thoughts?
And, if you're an Apple user, help us get in front of even more listeners to encourage them to thrive by clicking 5 stars!
Be sure to follow me on FB @dr.sherri and Instagram @dr.sherrispeaks
_____
Do you want to receive thriving thoughts straight from Dr. Sherri right to your text messaging inbox?  Simply text THRIVE to 540-369-2139 to sign up! You'll get a FREE 14-day trial. After that, it's just $9.99 per month, or save with the $99 Annual plan!
_____
Join the thriving thoughts movement!
#littleliesbigtruths
#thrivingthoughtswithdrsherri
#thrivingthoughtspodcast
#feelingsareinformationnotfacts
_____