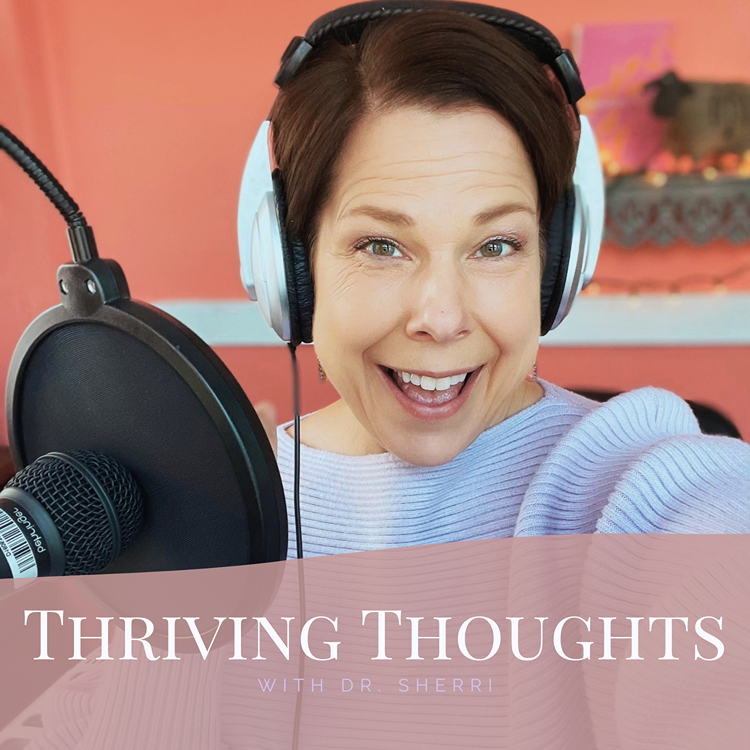 You don't need to move your body in big ways to get big results. If you want to feel better about yourself, feel more confident, and love yourself more, look no further than today's episode. The best part of this episode's intentional practice? You really don't have to think about it at all (because you're already doing it). 
If you're interested in the research cited in today's episode, please follow this links:
Expand your body when you look at yourself: The role of the posture in a mirror exposure task (Miragall et al., 2018)
____
Welcome to Season 8, Thriving Through the Power of Intention! In the same twice-weekly, five-minute episode format you've come to love and share, Dr. Sherri will teach you practical and applicable tips to bridge the gap between knowing and doing and to fulfill your intentions through action! 
(NOTE: No episode of this podcast is a substitute for medical or psychological advice, diagnosis, or treatment. Thriving Thoughts with Dr. Sherri teaches you practical thought and behavioral tools you can implement to promote your mental health and prevent mental ill-health.)
_____
Support Thriving Thoughts Global!
Would you like to #getinvolved by donating your time (or financial support) to helping Dr. Sherri's nonprofit, Thriving Thoughts Global, give free access to women worldwide a deeper dive into the thought tools you get here on the show? Dr. Sherri is actively recruiting volunteers for various projects (all time and financial donations welcome) such as a podcast development team and social media team. Message Dr. Sherri for your opportunity to make Thriving Thoughts...Global!
DONATE to Thriving Thoughts Global today to support women's global access to practical and applicable life-changing thought tools!  
As our thanks for your minimum 100USD donation, you will receive our exclusive Thriving Thoughts 52-Card Deck, a full-color, laminated deck of shareable thriving thoughts with stunning nature photography.
Go to www.ThrivingThoughtsGlobal.com to DONATE now! Thank you for partnering with us to teach women how to thrive through the power of thought!
_____
Get YOUR copy of Dr. Sherri's mini how-to thrive guide when People Say Things That Hurt! Just 5.49USD on Amazon or FREE with your Kindle Unlimited membership. https://www.amazon.com/When-People-Things-That-Hurt/dp/B08F7M82WR
_____
SHARE THE LOVE by sharing the show! Tell your friends about today's episode in your Instagram story. Be sure to TAG @dr.sherrispeaks and use #ThrivingThoughtswithDrSherri and you'll be entered into a drawing to win a personally autographed copy of Dr. Sherri's book, Breakup Breakthroughs!
 _____
Friends, there are so many ways to listen to the show. SHARE, SUBSCRIBE, and WRITE a 5-STAR REVIEW!
Apple Podcasts: https://podcasts.apple.com/us/podcast/thriving-thoughts-with-dr-sherri/id1474876807
Spotify: https://open.spotify.com/show/4p3dGacL22QYcKj0IPPtxi
Podbean: https://thrivingthoughts.podbean.com/
Google: https://podcasts.google.com/feed/aHR0cHM6Ly9mZWVkLnBvZGJlYW4uY29tL3Rocml2aW5ndGhvdWdodHMvZmVlZC54bWw?sa=X&ved=0CAMQ4aUDahcKEwjol6W2itrsAhUAAAAAHQAAAAAQAQ&hl=en
Dr. Sherri's YouTube Channel: https://www.youtube.com/channel/UCXu6Q74W79WAqSIkPSkkGc
_____
Get YOUR copy of my new book, Breakup Breakthroughs, right here on Amazon! It's for every woman (and many men who've had the courage to read the book and write a review!) who has EVER believed the lie that she's not worth fighting for! Get the paperback version, the Kindle version, AND the "It'll Take Work" Book with BONUS mini-book at the end, When People Say Things That Hurt! 
_____
If you've been encouraged by today's episode, will you please share this episode with someone you know who would love some additional thriving thoughts?
And, if you're an Apple user, help us get in front of even more listeners to encourage them to thrive by clicking 5 stars!
Be sure to follow me on FB @dr.sherri and Instagram @dr.sherrispeaks
_____
Join the thriving thoughts movement!
#littleliesbigtruths
#thrivingthoughtswithdrsherri
#thrivingthoughtspodcast
#feelingsareinformationnotfacts
_____